The Belarusian Investigative Center previously
exposed
how Mr. Viktar Sheyman ran a private business during his eight-year tenure as the Executive Director of the Belarus President Property Management Directorate. In our new investigation we shed light on the key person involved in Mr. Sheyman's dirty side hustle – as well as matters of his heart. Meet Ms. Hanna Pushkareva.
Mr. Viktar Sheyman is widely known as one of the most dedicated strongmen to Mr. Lukashenka. Witnesses say he once put a gun to his own head to prove his loyalty to the Belarus dictator. But Mr. Sheyman's friendship with Mr. Lukashenka dates all the way back to the 1994 electoral campaign – Mr. Lukashenka's first and last free election.
By then, Mr. Sheyman had earned a position as presidential candidate Lukashenka's Chief of Security – an appointment that would pave his way to high-profile security jobs during Mr. Lukashenka's reign. In 2013, almost two decades later, Mr. Lukashenka appointed Mr. Sheyman as the head of the President Property Management Directorate (PPMD) to deal with the housekeeping.
And housekeeping there was. By the time Mr. Sheyman got appointed, the PPMD had amassed tens of businesses from all kinds of industries under its umbrella: from petrochemical trading and tobacco distribution to state resort and national parks management. During his reign Mr. Sheyman expanded Mr. Lukashenka's business with meat, milk, and dairy processing factories, as well as other assets.
But in 2021, after eight years as the head of Mr. Lukashenka's business empire, Mr. Sheyman decided to quit. As Mr. Lukashenka was accepting Mr. Sheyman's resignation, he asked him not to "drift away from state affairs" – a request to which Mr. Sheyman was all too happy to oblige. Soon after, Mr. Sheyman was being received as the 'special envoy of the President of Belarus' in several peculiar regions – namely Venezuela, Abkhazia (an unrecognised Georgia's region presently occupied by Russia), as well as Russia's Khabarovsk Territory in the Far East.
During his stint as the country's chief facilities manager, Mr. Sheyman made sure to also look after his private interests and reward his own associates. One such associate was Ms. Hanna Pushkariova, an arts student who became a co-owner of a firm Global Custom.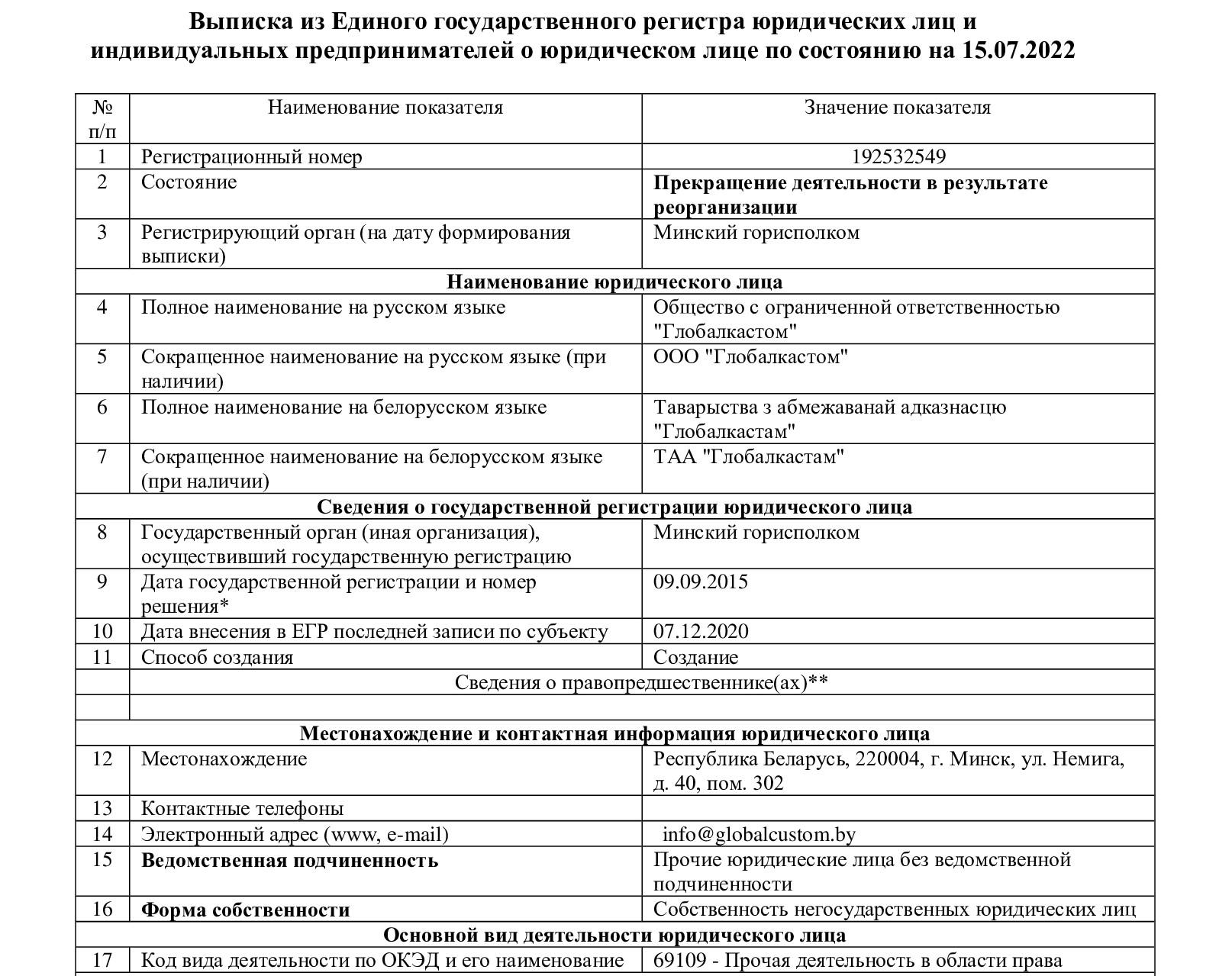 By 2017 the company would become one of the main contraband suppliers of sanctioned goods to Russia, according to the RBC, a Russian news outlet. But the ensuing tax-evasion scandals, such as re-exportation of flowers and illegal garment shipments to Russia, seemed to keep Ms. Pushkariova unfazed. Indeed, she even publicly admitted to illegally supplying fashion items to Russia at a Belarus court hearing after Moscow had cracked down on the scheme.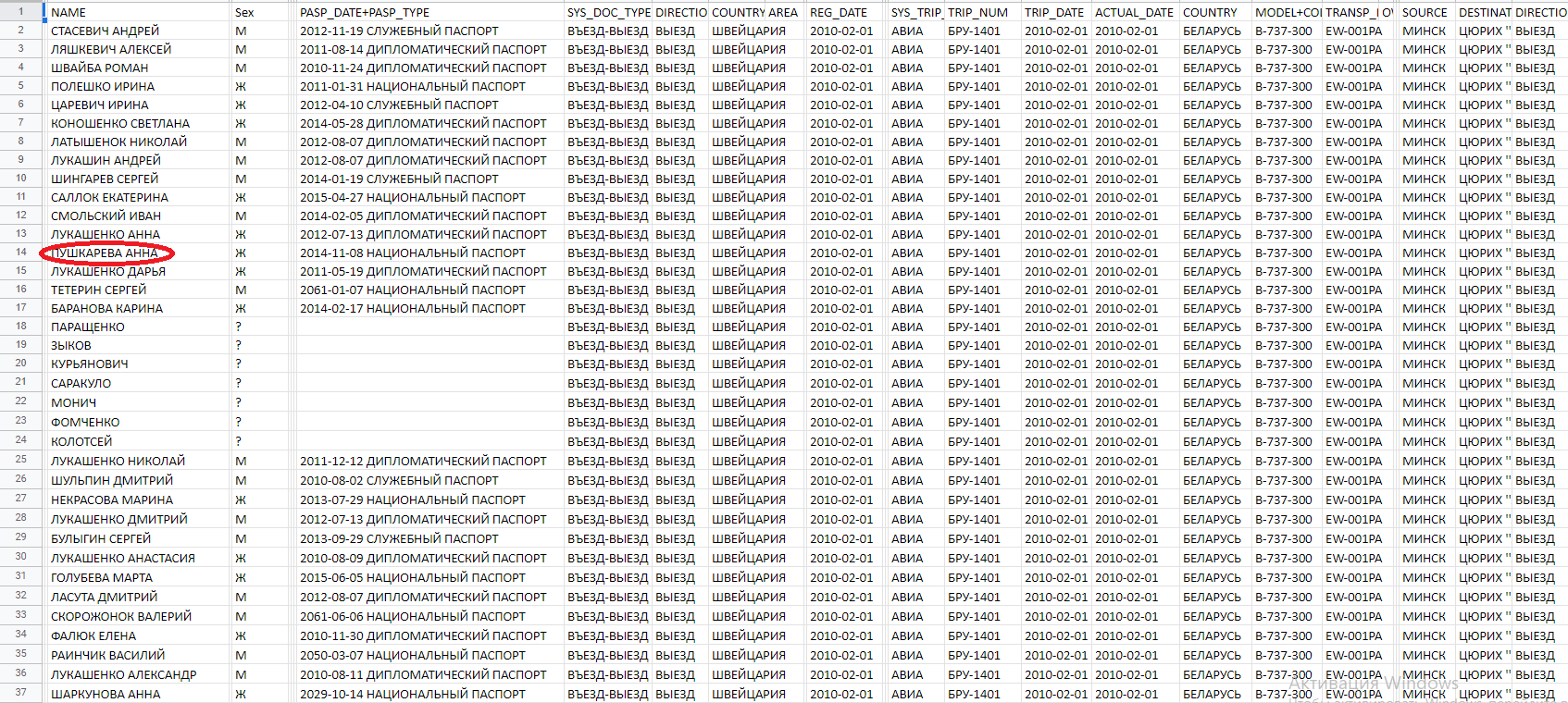 To understand how an inexperienced arts graduate could get away with major international tax evasion schemes, we need to go all the way back to 2010 when Ms. Pushkariova, a third-year arts student, found herself on a presidential jet EW-001PA on the way to Zurich. On board were Mr. Aliaksandr Lukashenka and his family, oligarchs Mr. Yury Chyzh and Mr. Siarhiei Tsiatsieryn, priest Mr. Fiodar Pouny, and Ms. Sviatlana Kanashenka, Mr. Lukashenka's private medic.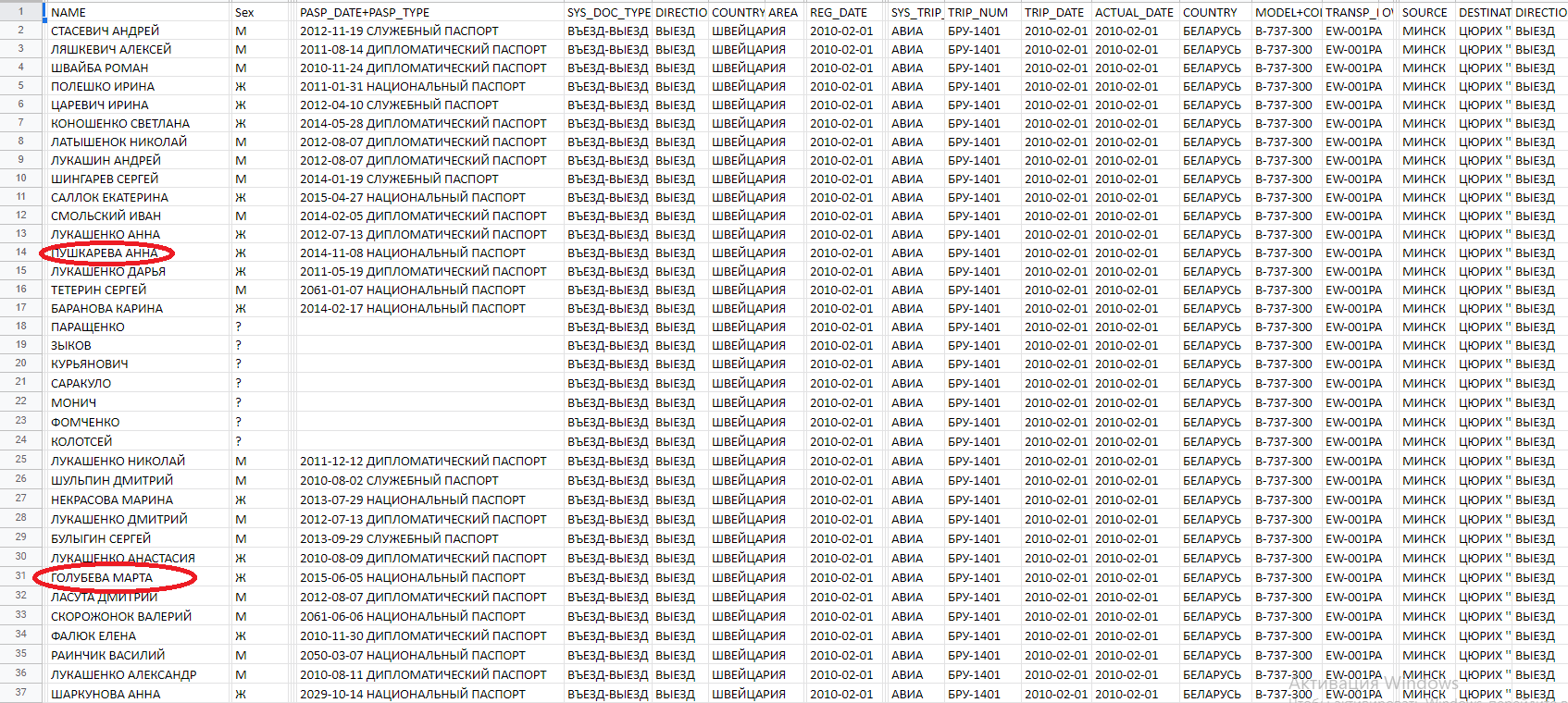 Ms. Pushkariova was not the only arts student on the trip, however. Aboard was also Ms. Marta Golubeva, a girl who had been spotted in Mr. Lukashenka's company two years earlier when she was only 18. Ms. Golubeva used to perform in a pop-folk band Vierasy whose leader, Mr. Vasil Rainchyk, also went to Zurich in 2010. We believe it was Ms. Golubeva who introduced Ms. Pushkariova to Mr. Lukashenka, as the two girls had been studying at the same Drama Faculty of the Academy of the Arts.
It seems Ms. Pushkariova got along particularly well with Mr. Sheyman. Flight data suggest they shared at least 10 trips, including during Mr. Sheyman's official visit to Ukraine in 2012. But Mr. Lukashenka's second-in-command had been divorced for over 10 years by then. In 2002, Mr. Sheyman and his wife parted ways, ending a 20-year-old marriage that brought about their son Siarhei, now 39, and daughter Volha.

To Ms. Pushkariova – a common girl from a regional town of Dziarzhynsk and a humble arts graduate– it was a stroke of luck to get so close to one of Mr. Lukashenka's most entrusted agents. In 2012, soon after a trip with Mr. Sheyman to Dubai, Ms. Pushkrariova became the owner of a flat at Viery Charužaj Street in Minsk worth $250,000, and a new Toyota Rav4 worth BYR 60,000 – perhaps to cement the relationship.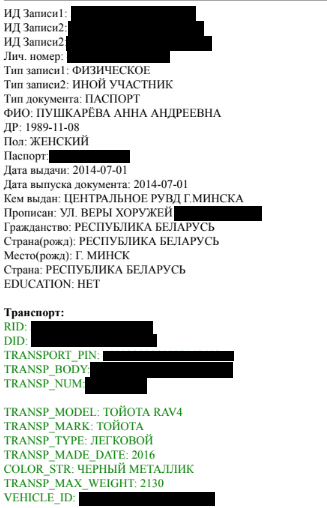 Mr. Sheyman's own real estate aspirations came to fruition in 2017 when he purchased a 2,500 square metre property in Padlipki, a village in Puchavičy District, for $15,500. He upgraded the plot with a brand new 547 square metre house worth at least $350,000. The building features a cellar, office and billiards rooms, a veranda, and utility areas.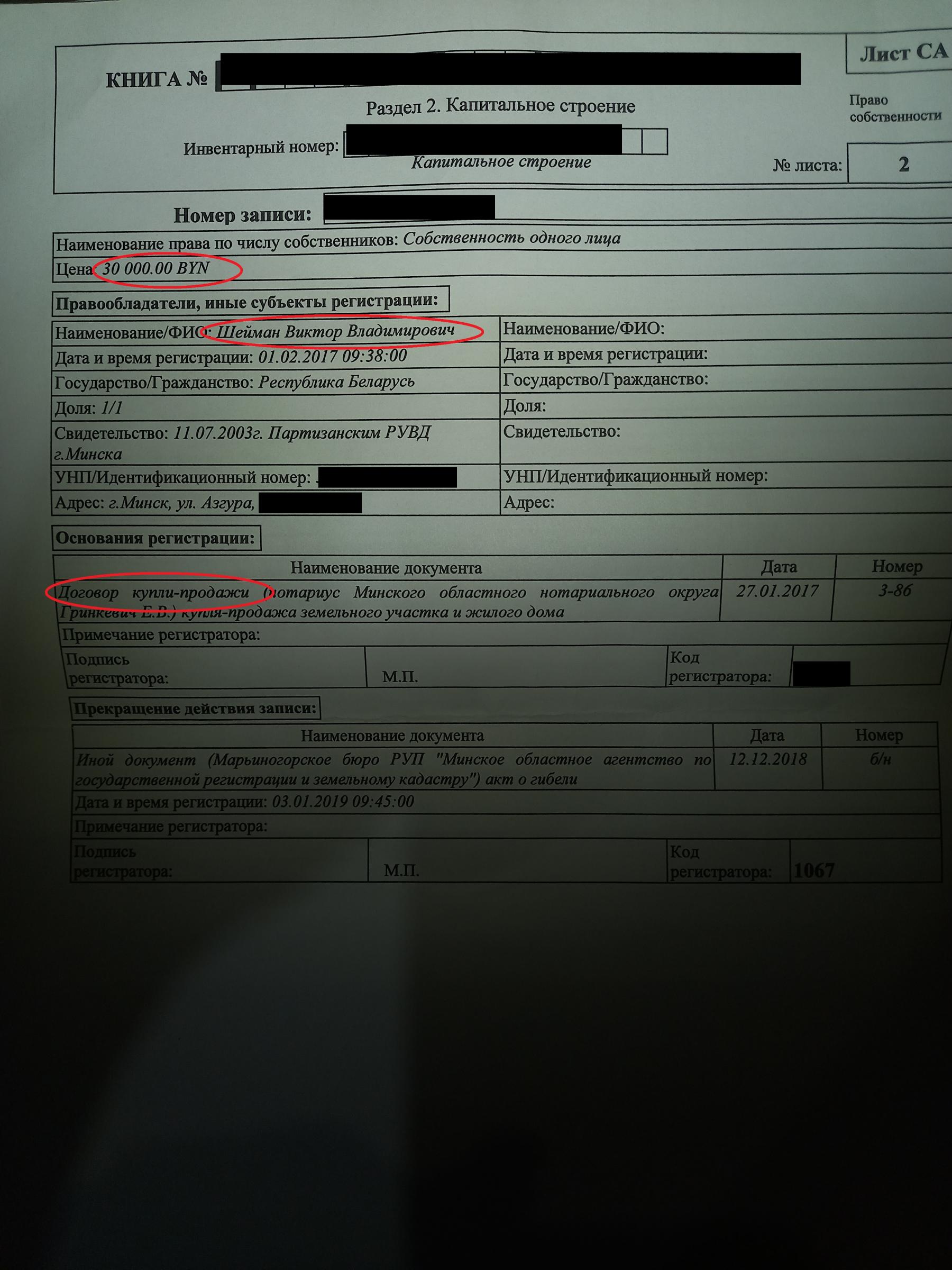 Adjacent to the holding is a new brick house with a basement, a cellar, and a terrace. The property received its occupancy papers in 2020 after an auction sale in 2017. The house is worth $60,000 and is registered to Ms. Pushkariova.

By the time Ms. Pushkariova became Mr. Sheyman's dacha neighbour, she had also become mother of his son two years earlier. Prior to giving birth, the then 29-year-old allegedly flew to Israel with her sister – the boy's birth certificate is issued in Tel Aviv. The boy was named Mikhail Viktaravich Pushkariou, but he only inherited Mr. Sheyman's first name in his patronymic name Viktaravich and kept his mother's surname Pushkariou.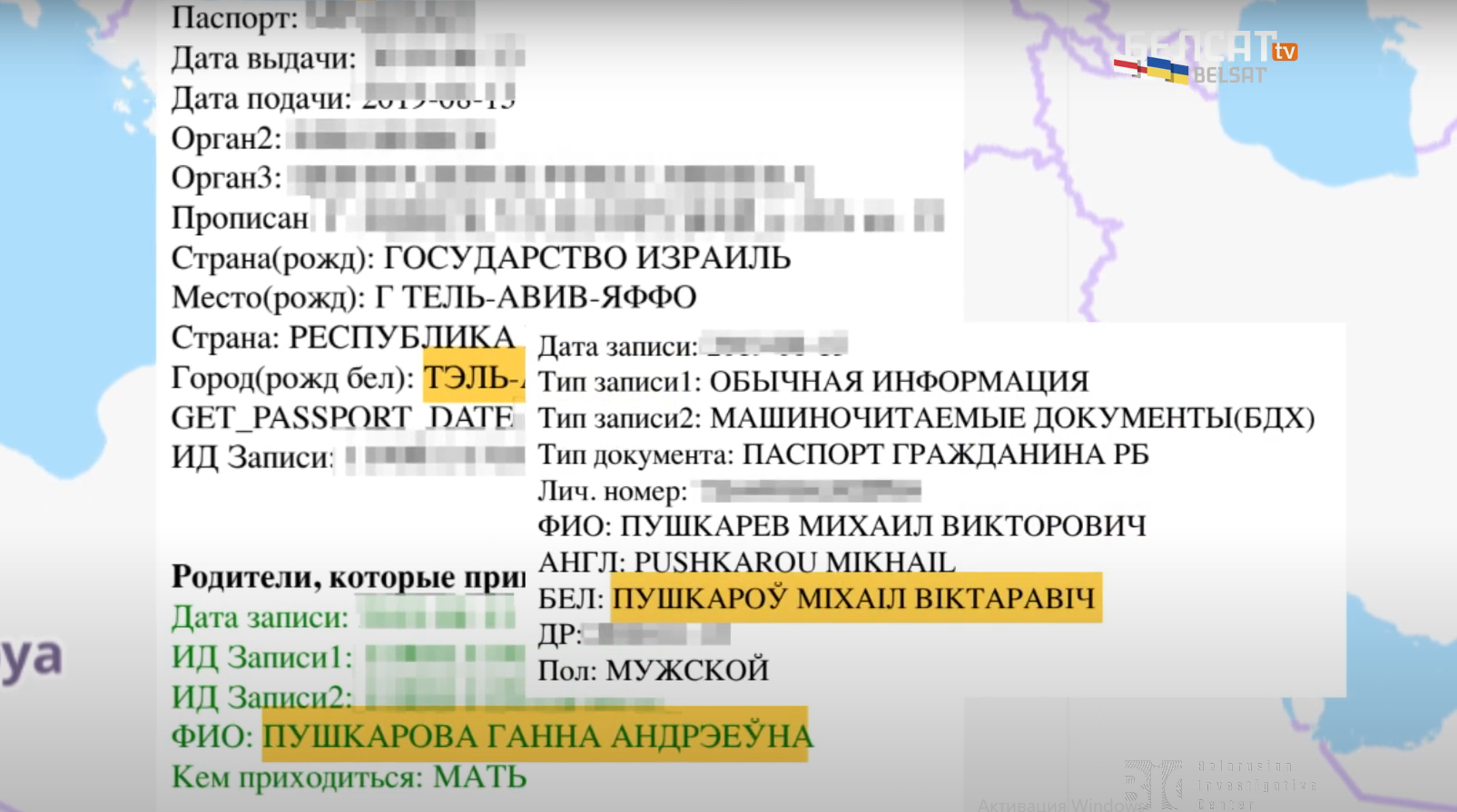 According to his birth papers, Mr. Mikhail Pushkariou's father is Mr. Viktar Uladzimiravich Pushkariou, but our research into the boy's travelling companions yielded no results under such name. A subsequent hack into the Belarus passport database showed no such person exists. And yet a man who did travel to Israel with Ms. Pushkariova and her son on 25 August 2019 was no other than Mr. Viktar Uladzimiravich Sheyman.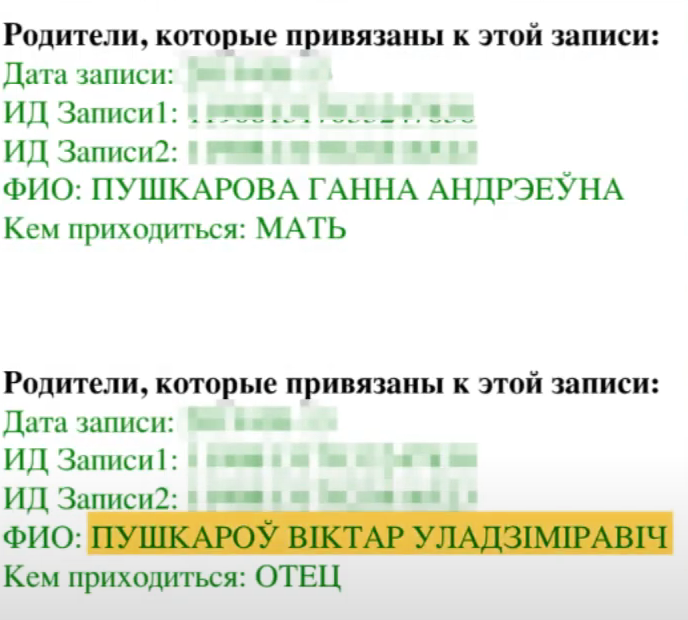 As rumours and scandals involving Ms. Pushkariova elevated her to a media celebrity status, she gave up ownership of the firms that were in the spotlight. By that time, the original Global Custom had spawned Global Custom Management and Global Custom Commerce. Mr. Jauhien Zhounar, Mr. Aliaksandr Ramanouski, and Mr. Anton Novik, a later addition, took over the three firms from Ms. Pushkariova.
To understand how the three men are connected to the Sheyman clan and Mr. Lukashenka's regime, our investigators turned to CyberPartisans, a pro-democracy hacker group. The results pointed to Mr. Ramanouski and Mr. Novik's former employer, the Presidential Security Service. Mr. Novik's affiliations also include the Belarusian Judo Federation, of which he is an executive member, as well as his father, the famous Soviet unarmed self-defence martial art (a.k.a. 'Sambo') athlete, Mr. Anton Novik Sr.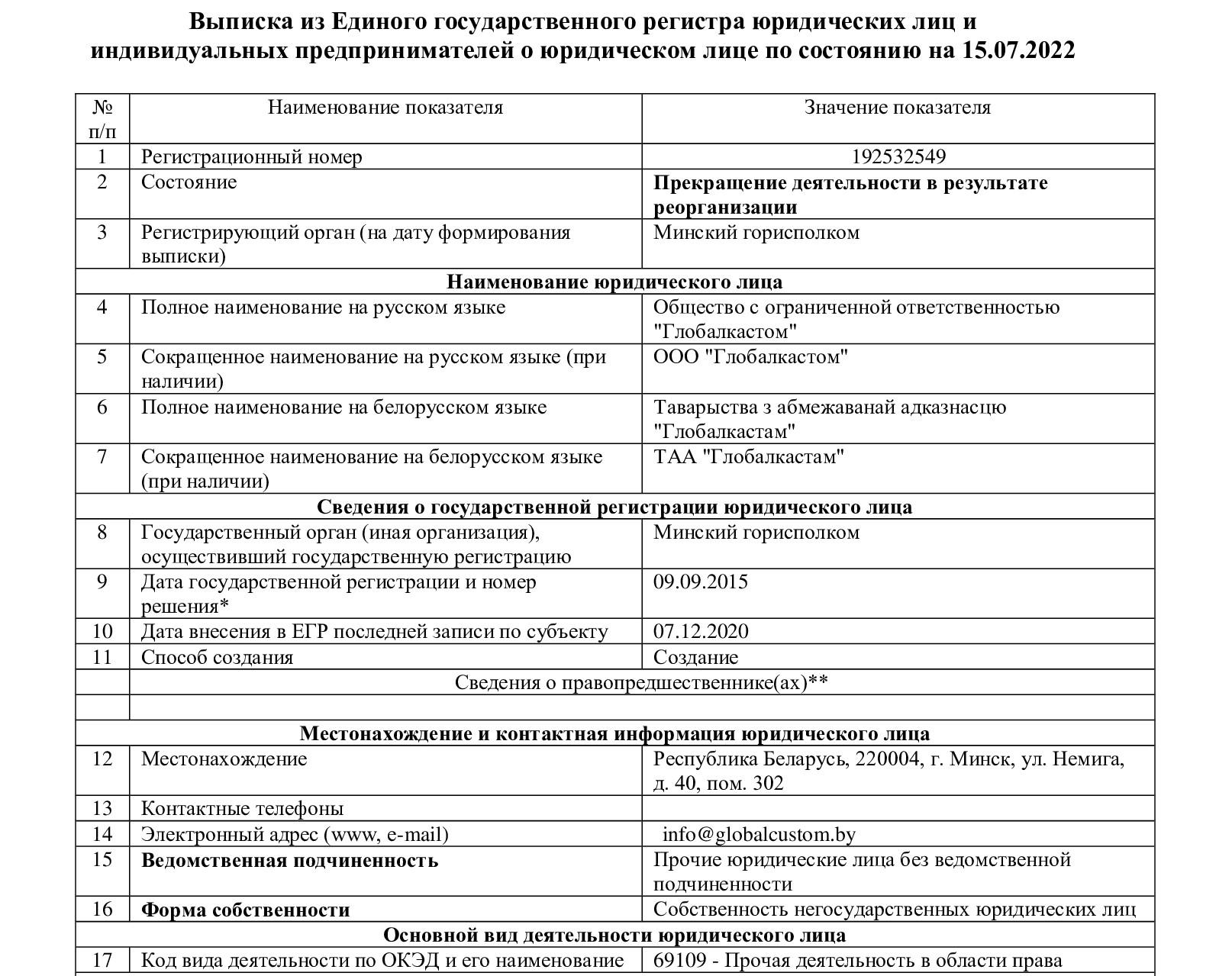 The third man on our list is Mr. Jauhien Zhounar, known in the media as 'Mr. Sheyman's agent'. Unsurprisingly, he is also an alumnus of Lukashenka's PPMD. As it transpired from one of our previous investigations, Mr. Zhounar is a representative and a founding member of a gold mining company Zim Goldfields.
The company was founded after Mr. Sheyman's visit to Zimbabwe and his subsequent statement announcing a 'Belarusian machinery in exchange for gold mining rights for Belarus' deal. Under its terms, the Zimbabwean authorities were to provide gold mining subsidies to Zim Goldfields.
But leaked company papers show no connection between Zim Goldfields and the Belarus Government. Instead, they point to Mr. Sheyman's son Siarhei as the ultimate beneficiary of the business.
Mr. Sheyman's jewellery-side of his business empire has also hatched from Global Custom Management. In 2017 the business acquired a brand Belorusskiye Brillianty ('Belarusian Diamonds') from Adams Invest, a company where Ms. Pushkariova's sister, Ms. Julia Bryhadnaya, was employed at the time. In 2022 Global Custom Management went through rebranding and became Ordozavod after the Ministry of Finance had granted the business a license to manufacture and trade in precious stones and metals six months earlier.
But the Sheyman clan's interests go beyond bling. In 2019 Global Custom Management, while still under Ms. Puskariova's formal control, founded BelSecurityGroup. In early 2020 the firm changed its name to Guard Service, and in June that year Mr. Lukashenka made it the first private security firm in Belarus with the right to possess and use law enforcement weapons.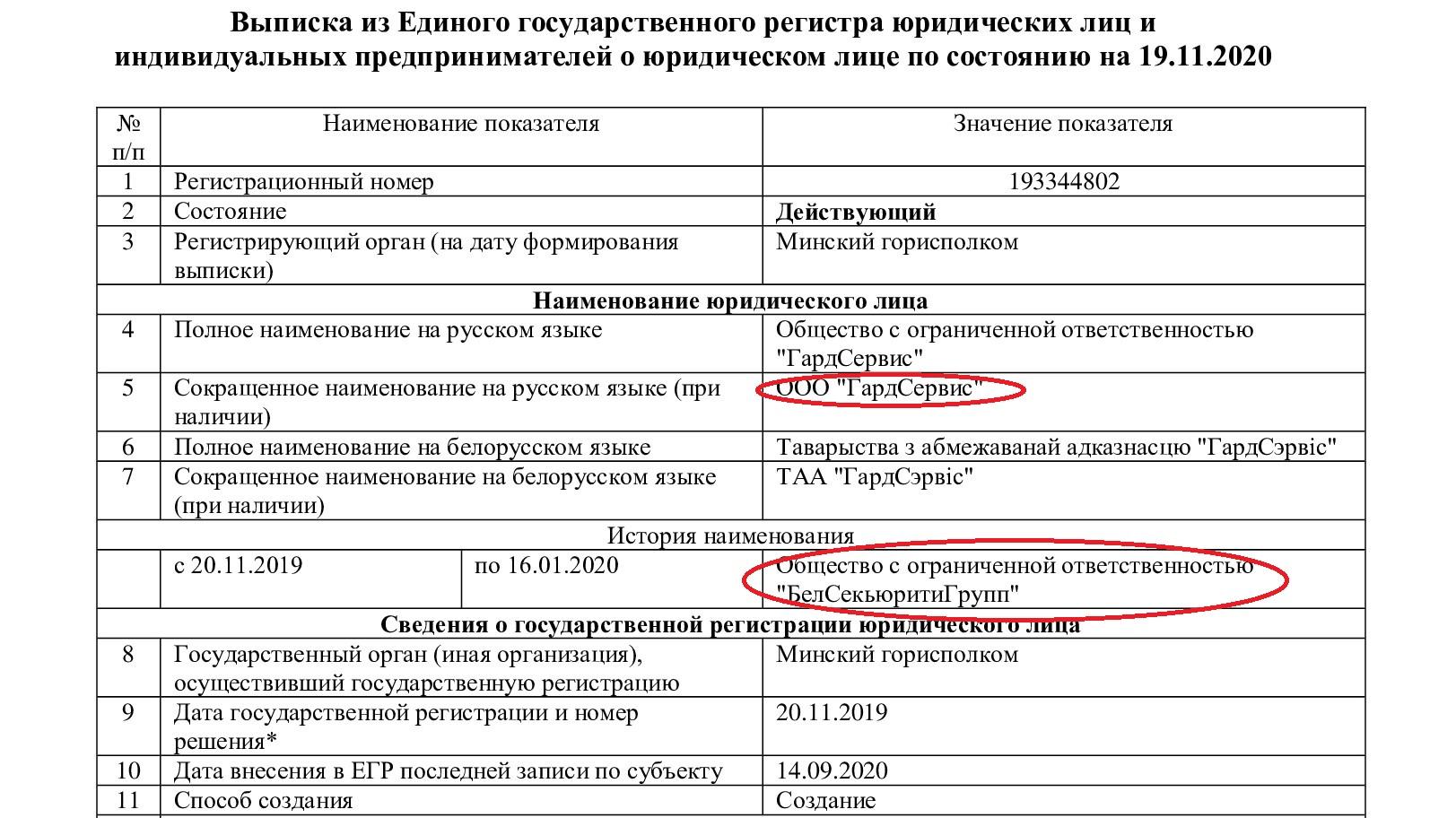 Soon after, Euroradio, a pro-democracy media outlet, exposed a connection between Guard Service director, Mr. Yauheni Chanau, and Lukashenka's property management business, the PPMD. Mr. Chanau got thus replaced by Mr. Aliaksandr Miatla, the head of Pamyat' Afgana, an Afghanistan War veteran charity fund.
But the business still could not manage to conceal its connection to Mr. Lukashenka since Mr. Sheyman has been known as Mr. Miatla's friend, as well as a patron of the Pamyat' Afgana fund. Moreover, back in 2017 it was Mr. Miatla who had sold the property in Padlipki to Mr. Sheyman – where the latter now resides with his mistress and son.