Over a five-year period, Mikalai Varabei's family bought apartments and chalets in Austria and managed to shelter their holdings from western sanctions.

Maximilian Christoph von Habsburg-Lothringen is Mr Varabei's

long-term business partner and friend. He is a paternal descendant of the Austro-Hungarian

Habsburg-Lothringen emperor dynasty, and a man with close ties to Russia.

Mr Varabei's son-in-law,

Ewgeni Smuschkovich, has been helping businessmen from the ex-USSR stash their savings in Swiss banks. He resigned due to a scandal involving his father-in-law.
On 17 December 2020, the EU sanctioned Mikalai Varabei for being Aliaksandr Lukashenka's oil money man. But despite the sanctions, Mr Varabei still enjoys his secret hideout in Austria – as our joint investigation with Austrian paper Dossier reveals. Mr Varabei's family owns luxury properties in the country and enjoys connections with the local elites.
The family's fanciest property is a chalet in the southern Austrian region of Carinthia. The property consists of a 300-square-metre palace and 19,000 square metres of meadows, forests, and gardens. The company Power Chemical Trading formally owns the estate,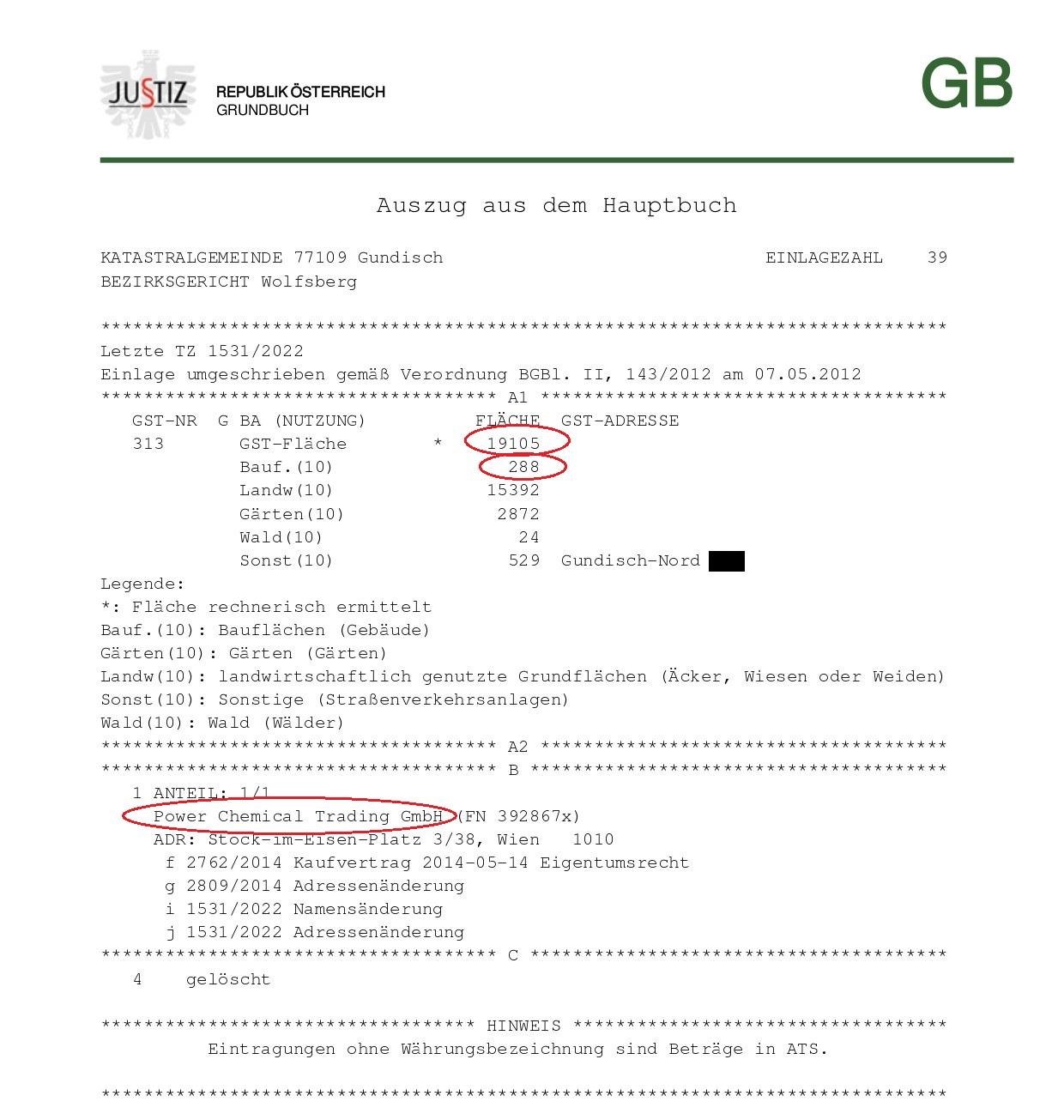 but the entity's owner is Katsiaryna Smuschkovich whose maiden name is Varabei. Ekaterina got her stake in the company from her father, Mikalai Varabei,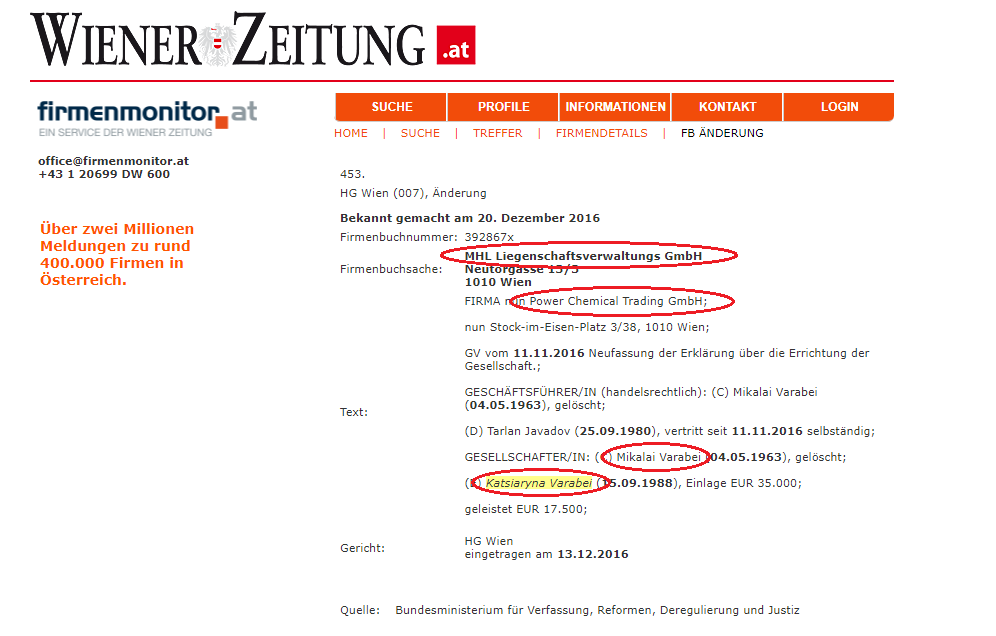 who had purchased it from Maximilian Christoph von Habsburg-Lothringen,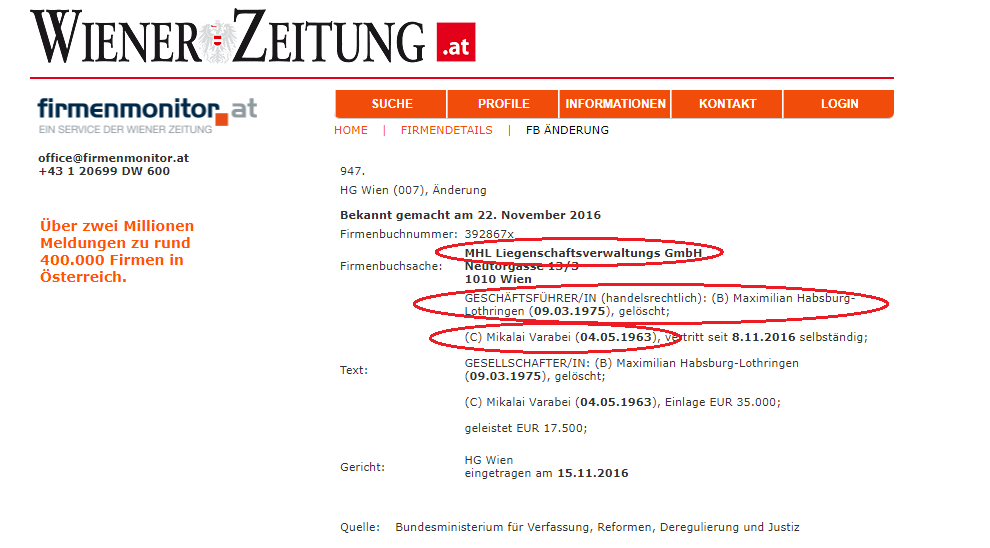 a paternal descendant of the Austrо-Hungarian Habsburg-Lothringen emperor dynasty.
According to the registration papers, Katsiaryna Smuschkovich got – not earned – the estate from her father via her stake in Power Chemical Trading.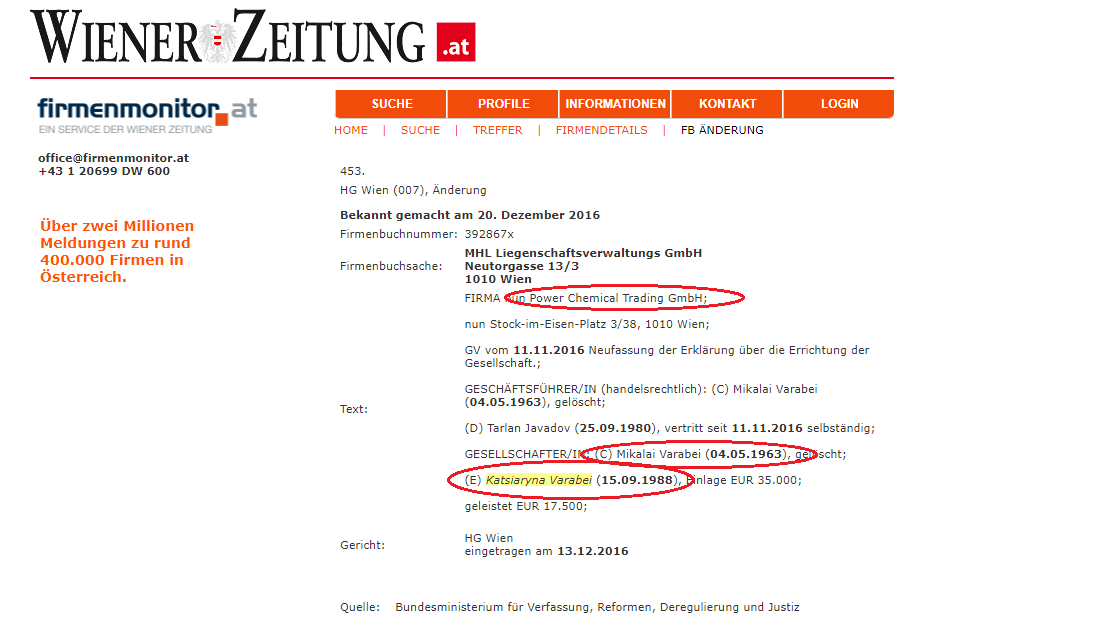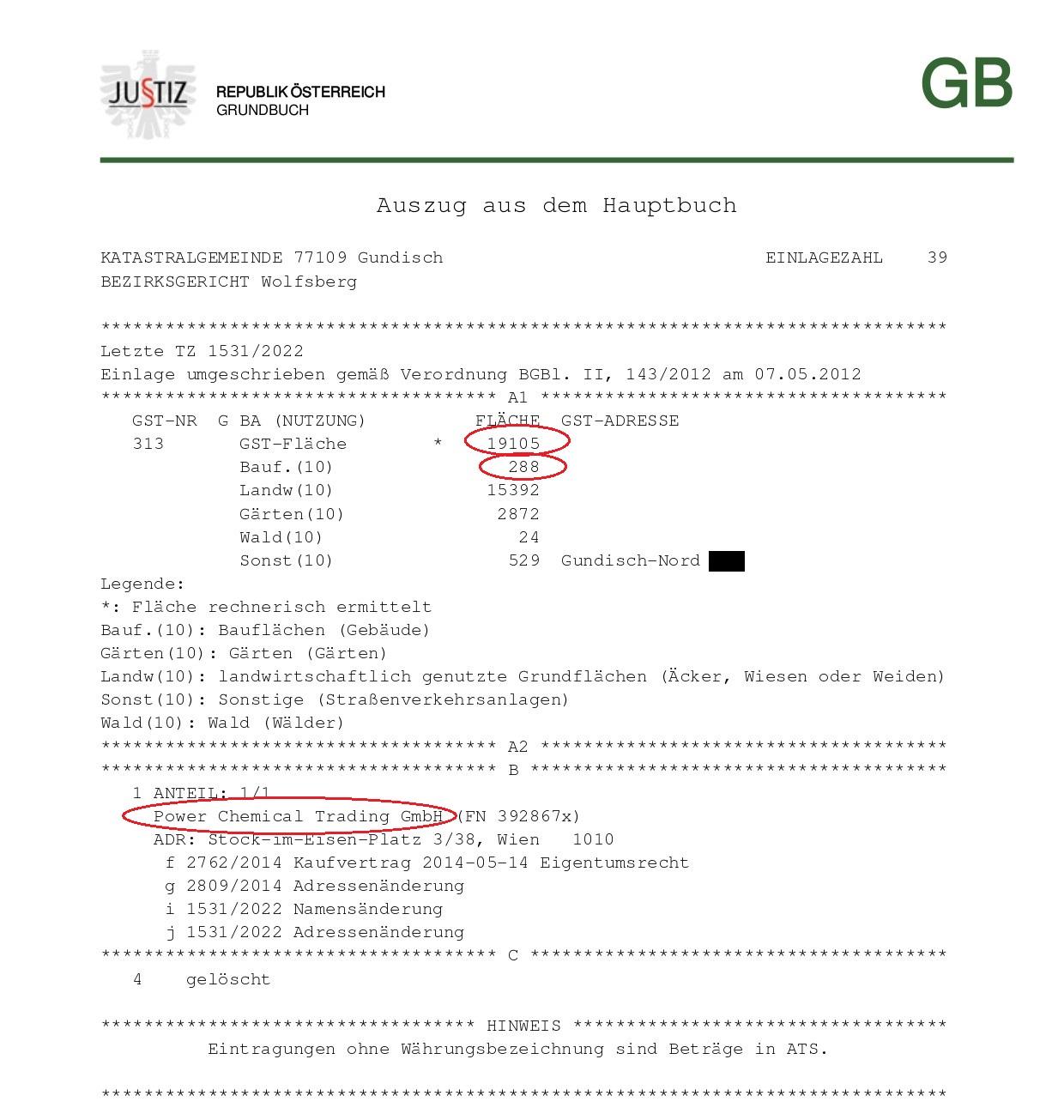 The firm's statements show the company had not more than one employee over the years, and its 2020 financial result was €1.5m in the red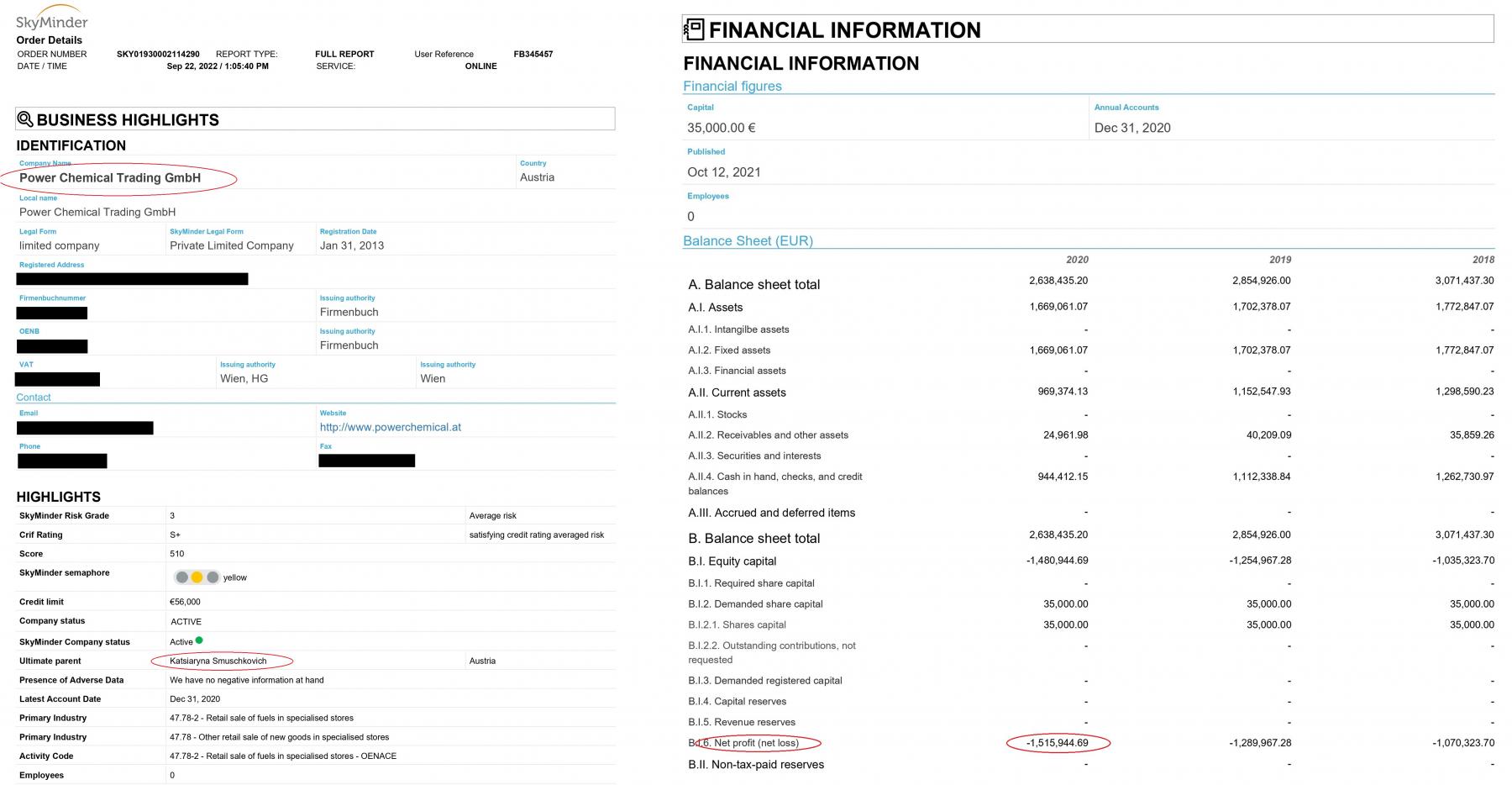 – the signs indicative of a shell company with the sole purpose of owning and servicing the Carinthian mansion.
Mr Varabei's wife and daughter have been the joint owners of the estate – this came in handy when the EU announced sanctions against him in 2020, leaving the properties untouched as Mr. Varabei did not own them directly. But the situation may reverse following our investigation – as was the case with the Gutseriev family.
Some time ago, Aliaksandr Lukashenka's friend Mikhail Gutseriev had managed to shelter his London properties via his son's shell companies. But a month after our joint investigation with The Guardian, the EU sanctioned his son Said and millions of dollars' worth of properties in London.
High society clout: spy craft and scam worth billions
Let us dig deeper into Maximilian Christoph von Habsburg-Lothringen – the man who sold the chalet to the Varabeis.
Cyber Partisans, a Belarusian pro-democracy hacker group, have hacked travel databases and revealed that Mr Varabei, Mr Habsburg, and their relatives had travelled between the EU and Belarus several times since September 2013

– long before the MHL Property Management deal. Under this name the Power Chemical Trading company was known previously.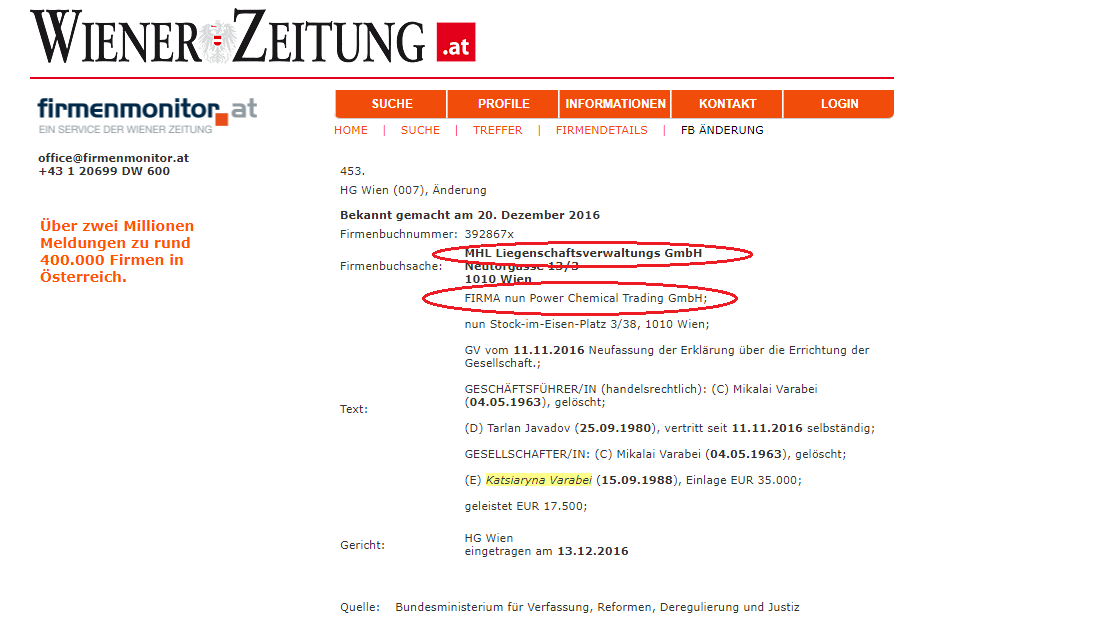 During his career, the 47-year-old Maximilian von Habsburg-Lothringen has worked at several Austrian banks including Privatbank and Liechtensteine Landesbank (Österreich) AG. He now owns an upmarket Austrian winery Weingut Habsburg as well as Habsburg Solutions, a law firm advising private individuals and legal entities, including on real estate transactions.
Since 2020, Mr Maximilian has been the head of the Austro-Russian Friendship Society that aims to strengthen business ties between the two countries. He was also known as a confidant of Florian Stermann
The Austro-Russian Friendship Society and Mr Stermann's connections on offer may have included one of the most wanted men in Europe known for the Wirecard case, Jan Marsalek.
"What we know about Jan Marsalek suggests that this is, of course, a very unusual person. He was one of the creators of Wirecard, which is a kind of a modern payment system. The essence of this system is that it allows you to transfer money in a simplified way between different countries. And now, by the way, there are quite a lot of similar electronic payment systems. But when they [Wirecard] started, almost 10 years ago, it was a fairly new phenomenon, and growing rapidly. And over time, the volume of funds that they transferred from country to country amounted to billions of dollars. These are colossal amounts of financial resources with a huge number of clients, and this, of course, could not but be of interest to the special services of different countries, including Russian ones.
And we see that at some stage, Jan Marsalek, one of the co-founders of this system, begins to regularly come to Russia, and with very strange trips. Literally sometimes for 2 days, sometimes less than one day, literally for several hours. It doesn't even look like some kind of business trip, but some very strange shuttle movements to Moscow, which can be interpreted in different ways. But it is certain that these are not some business negotiations. Business negotiations should take, well, at least one day. Sometimes he flew to the airport for several hours", says Roman Dobrokhotov, editor in chief of The Insider a Russian investigative outlet, which, together with Der Schpiegel and Bellingcat, tracked Mr. Marsalek's escape from German and Austrian law enforcement.
"Jan Marsalek was a very special person with very special connections. And I must say mysterious connections. Because Jan Marsalek became famous at least in Germany for having, for example, the Novichok formula, that was coming out from intelligence service. And he, a normal businessman in Germany, had this formula. It was top secret, because it's a very toxic substance.
He was good friends with intelligence guys from Libya, from Russia, from Austria, so he was not a normal businessman, how, I think, people are considering a businessman. He was a businessman with a lot of intelligence connections.", - adds Frederik Obermaier, an award winning investigative journalist, head of Paper Trail Media, a German investigative outlet.
Wirecard was a large German internet payment company that at its height made it into Germany's top-30 DAX companies by market value. The company's humble beginnings, however, were servicing porn site and online casino payments, according to Novaya Gazeta. In 2020, auditors at Ernst & Young refused to sign off on the company's statements after they had uncovered approximately a €2bn shortage. Interestingly, the scam's traces lead to Minsk.
In 2020, when a scheme with a huge, almost a couple of billion dollars, hole in this payment system was revealed, Marsalek disappeared. And when we started looking for his last trip, it turned out that his last trip was to the Republic of Belarus. I think that from there he immediately went to Russia. I don't think that Belarus hid him for some time, although he also had some kind of place of residence there. I think that his main base was and remains in Russia, because he is covered by the Russian intelligence services. His relations with the Belarusian intelligence services we didn't investigate. But as far as we understand, the KGB of Belarus is working closely with the Russian FSB. Therefore, I think they most likely cooperated closely already at the moment when he arrived in 2020. I think that everything has already been agreed between both intelligence services, says Mr Dobrokhotov.
" From what I've learned about Belarus, Belarus has a very powerful intelligence service, a very knowledgeable intelligence service, which gets a lot of information. So for me would be really strange if the Belarusian intelligence service wouldn't have known that Jan Marsalek is entering their country, who Jan Marsalek is, because in this case you only have to google and you could find that he is not only a businessman, but a businessman on the run. What could be a motivation? Maybe the Belarusian government tried to help governments it's friends with. Maybe the Belarusian intelligence service wanted to help the Russian. Or maybe there is even a simpler answer. Maybe they have been bribed", Frederik Obermaier notes.
A verification by Belarusian Investigative Center with the help of Cyber Partisans has confirmed that Mr Marsalek arrived in Minsk on 19 June 2020 via a private jet flight from Austria.

German papers claim that Mr Marsalek and Mr Stermann approached the Austrian Ministry of Defence with civil reconstruction projects in Libya. Additionally, Mr Stermann used to be a conduit for confidential information disseminated by Mr Marsalek, according to a leaked piece of correspondence of a Party of Freedom staffer.
Following the Wirecard scandal and Mr Marsalek's escape, Mr Stermann left his position at the Austro-Russian Friendship Society but promoted his protégé and Mr Varabei's friend Maximilian von HabsburgLothringen in his stead, according to Austrian papers. According to Frederik Obermaier:
"ORFG is very infamous. There's a lot of rumors about this being an organisation that enable at least contacts between individuals that might have an intelligence background. So this is why this friendship society, which sounds like a normal organisation, there are hundreds of them, but this is an organisation that is in the focus of Western intelligence services now really for quite a long time. Because there's always scandals popping up, there's individuals who are members [of ORFG] popping up in one scandal after another" .
"Well, it's a familiar organisation. I know about it, but I don't know the details. The fact is that Marsalek was and probably still is an active person who has a huge number of contacts. And when we began to restore the history of events and what Marsalek did, it turned out that it's quite difficult to do this, because he was literally everywhere. Wherever you go. I mean, he is connected with the GRU, he showed the Novichok formula to some of his acquaintances. He is in Europe, and in Britain, and in Russia, and in Africa. Very nimble. He managed to participate more or less everywhere. Therefore, we simply could not raise all his connections. But one way or another, I think that if something has happened in Austria over the past 10 years, Marsalek definitely has been involved in this. Simply because he conducted extremely violent activities there and had very close contacts with the Austrian intelligence services, which covered him for some time, until the authorities was changed. Therefore, he even received information from inside the Austrian intelligence services, if he needed it. So, yes, he felt quite comfortable in Austria. And if some Russian and Belarusian organisations were operating in Austria, I think Marsalek could help them, being their confidant", - Roman Dobrokhotov recalls.
We have tried to approach Mr Varabei for comment, but he refused to answer our calls and emails. One can only wonder whether his relationship with Mr Habsburg may have implied connections with Mr Stermann and Mr Marsalek.
Viennese apartments and Russian ties
Besides the chalet, the Varabei family holdings also include flats in Vienna, according to Dossier. In 2013, Mr Varabej's wife Tamara bought a Viennese apartment
for €3.7m.
Three years later, their 28-year-old daughter Katsiaryna became owner of the Carinthian estate. And in December 2017, Katsiaryna bought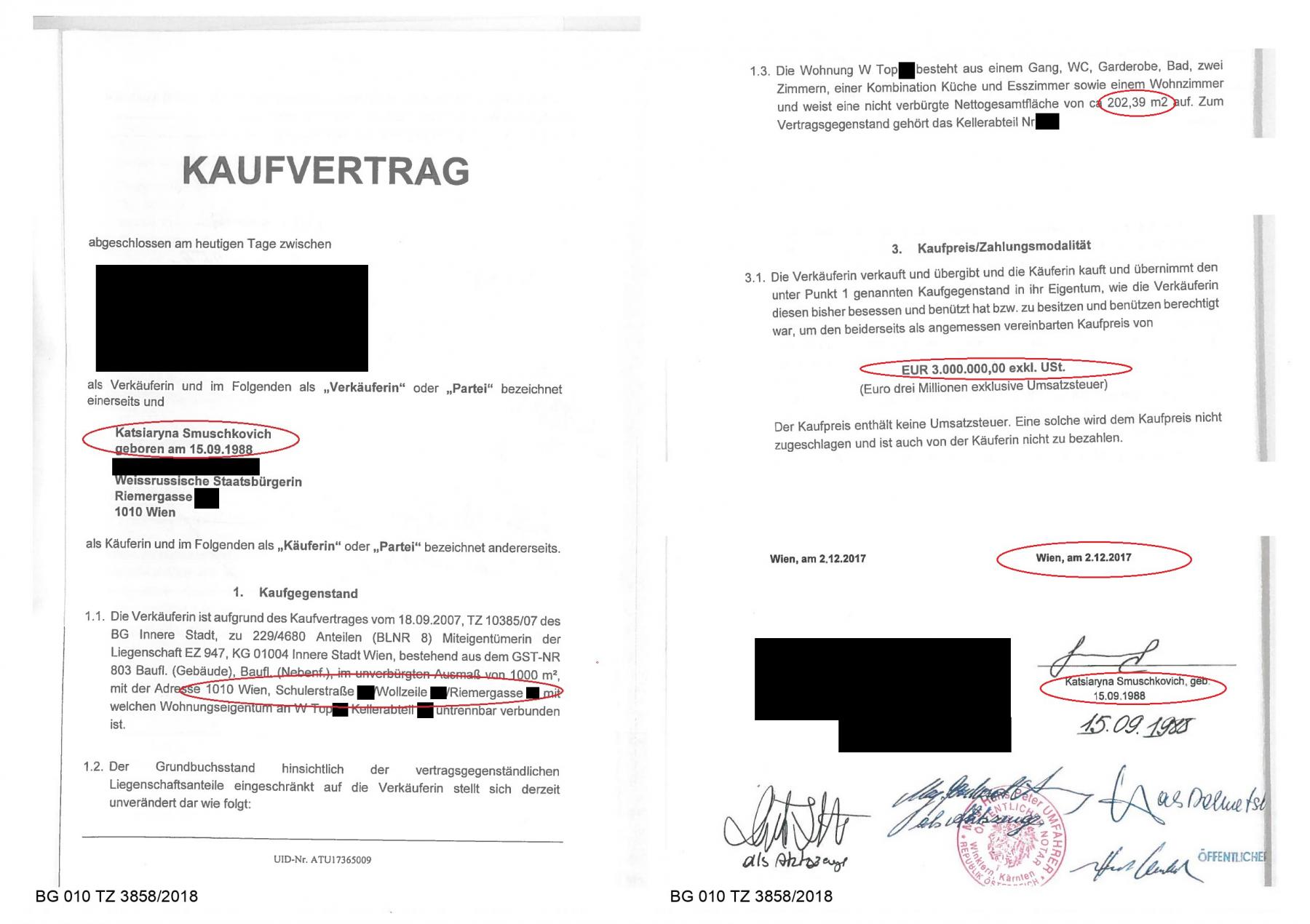 a 202-square-metre apartment for €3m in the heart of Vienna, in Innere Stadt.
Despite the lavish investments, Tamara Varabei was officially earning approximately $35,000 in annual wages while working at Belarusian companies Avtoimport and Interservice at the time of purchase.

She jointly owned the latter company with her husband.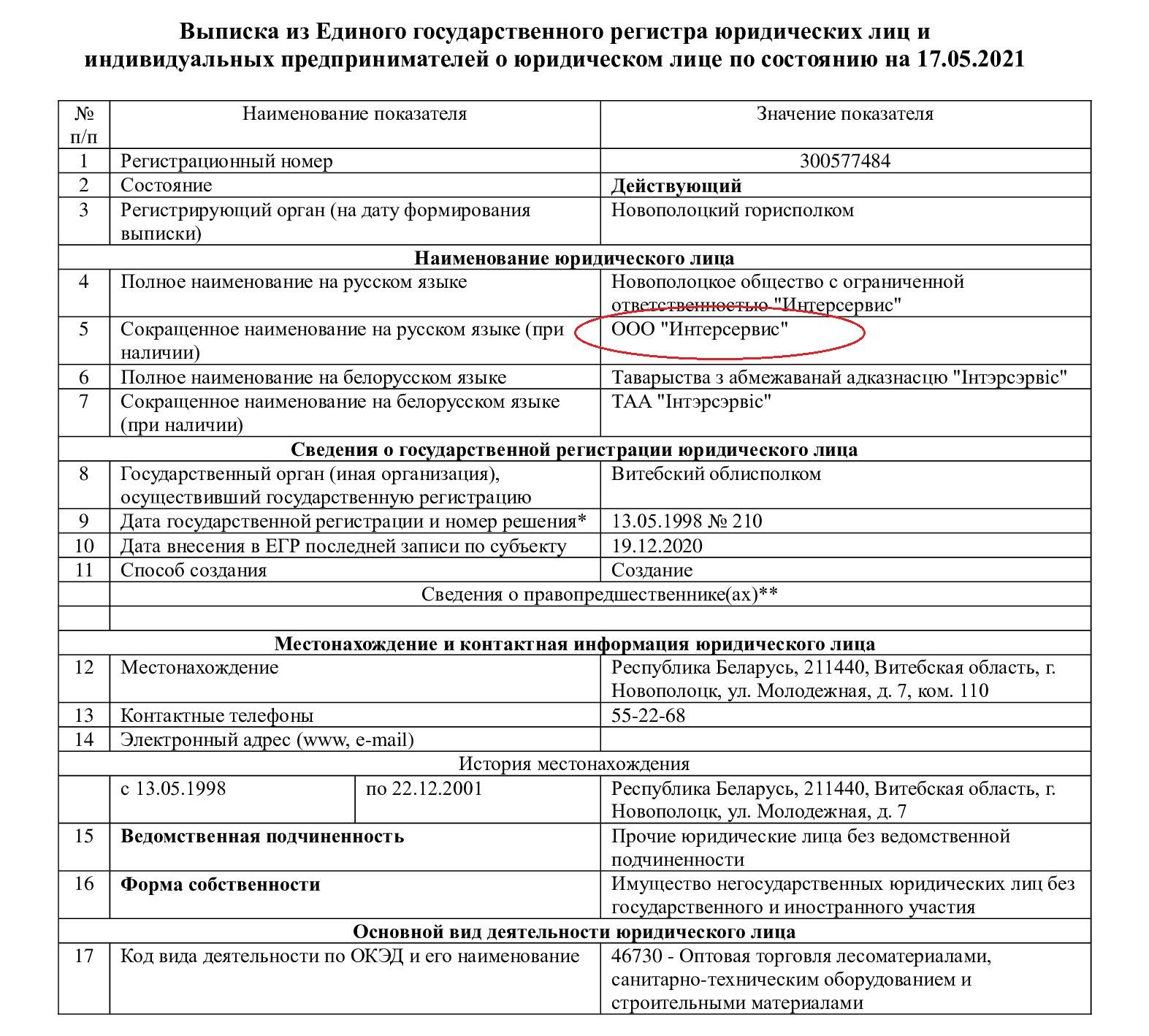 But during the previous year, Interservice had managed to earn huge profits by undertaking one of the dodgiest transactions by Belarus oligarchs and authorities – the re-exportation of petroleum products. Fuels derived from Russian oil and deliberately classified as 'solvents' and 'thinners' via a legal loophole were exported into the EU, thus evading Russia-Belarus Customs Union's export duties. The dealings triggered Russia to demand a $1.5bn compensation from Belarus, but the Belarusian side eventually managed to ease tensions.
Much like her mother, Katsiaryna bought her Austrian properties with funds other than her savings, since in 2015-17 she was a humble employee at Devana Services. The company was a tour operator whose main clientele were European hunters willing to try their luck in forests around Mr Varabei's Krasny Bor resort and hunting estate in Viciebsk Voblast. A search through Devana Services domain history has revealed that Katsiaryna had registered the domains on her name.

Russian high society in Austria
The Varabeis' Austrian connections also include Russian business elites, such as the Goldovsky family

whose patriarch, Jacob Goldovsky, owns an Austrian investment company Petrochemical Holding. In his heyday, Mr Goldovsky used to head one of Russia's largest petrochemicals holding Sibur. But around 20 years ago, the businessman sold all his Russian assets to Gazprom and left the country shortly after his release from Butyrskaya prison. Jacob Goldovsky once admitted that his relocation to Vienna was not without the help of his Austria-based 'Belarusian business partners'.
In 2017, Mr Varabei's daughter Katsiaryna became Katsiaryna Smuschkovich when she married Ewgeni Smusсhkovich – the then manager at a Swiss investment bank Julius Baer whose Russian, Central and Eastern European arm he was heading.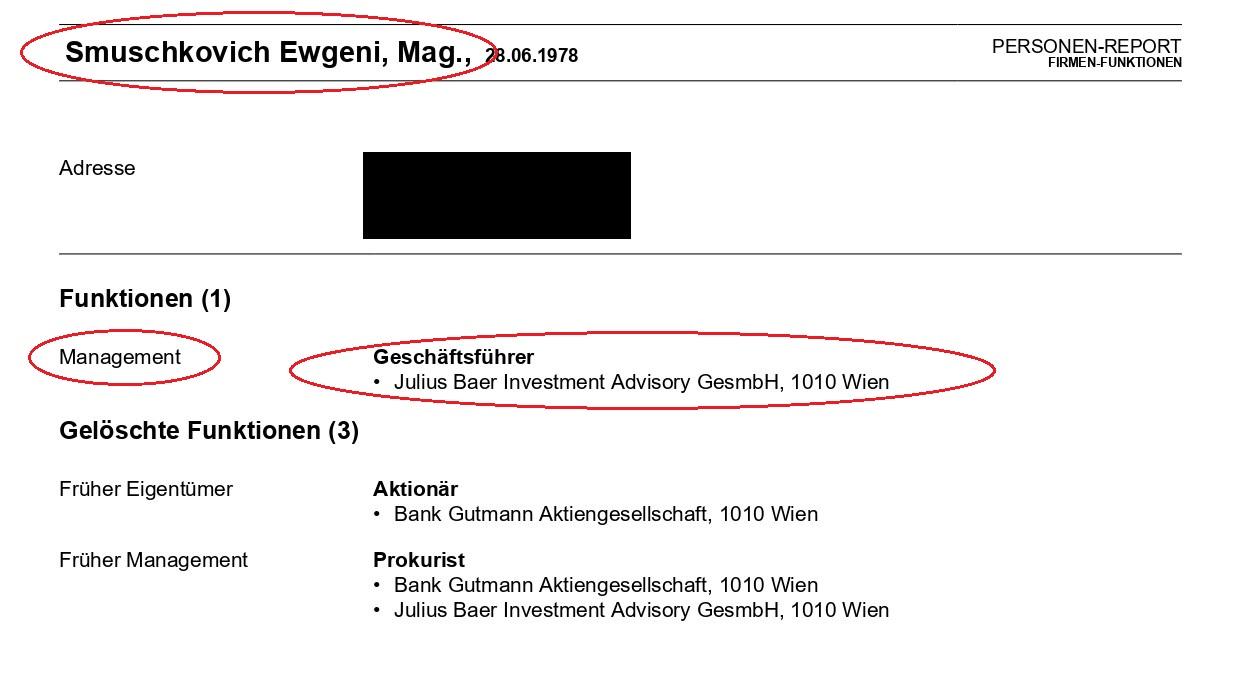 The bank offers tax optimisation and capital protection services for families whose net worth exceeds $2m. However in 2018 a former Julius Baer employee was involved in a money-laundering fraud of Venezuela origin, reported to be USD 1.2 bln worth.
In 2022, Julius Baer announced that Ewgeni Smusсhkovich was to resign 'to protect the bank', although he did remain the bank's contact person on their website until August 2022. The resignation should be understood in the context of the Russian invasion in Ukraine, the ensuing sanctions, and Mr Smusсhkovich father-in-law's ties with the Ukrainian oligarch politician Viktor Medvedchuk whose youngest daughter's godfather is no other than Vladimir Putin.
Despite the sanctions, Mikalai Varabei's wife and daughter seem to carry on with their lives of conspicuous consumption, showing off collector's bags worth $30,000

– 110,000,

fashion designer clothing,

and jewellery on social media.

Mikalai Varabei features in our other files. The businessman has been involved in several petroleum and coal scandals. Following our investigation in February 2022, the Estonian authorities have banned the transit and sale of all Belarusian petroleum products to eliminate the possibility of any loopholes being used to transport petroleum fuels through its territory. Mr Varabei, who made his fortune selling fossil fuels, also invested in a range of assets in Belarus, namely Absolutbank and Krasny Bor hunting estate. He became closely associated with Aliaksandr Lukashenka by becoming one of the key persons delivering the Orsha Offshore Zone project in Balbasava – together with Aleksey Aleksin and Alexander Zaytsev. But despite Mr Varabei's Belarusian business going well, he decided to set up a backup home in the EU.